We're Making Ratatouille!
16 October 2017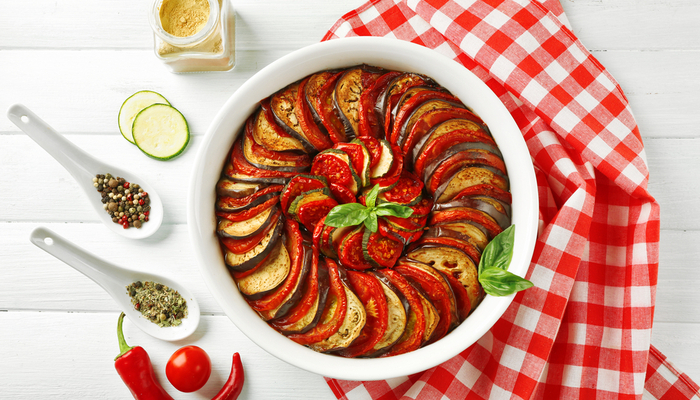 We already know Ratatouille because of the animation. The animation which is made by Disney and Pixar in 2007, tells the story of a mouse who wanted to be a chef. But in fact, Ratatouille is called for the food which is made in a cauldron back in 18th century. Back in that day, the food was made from leftover vegetables in the kitchens. Meaning, it was a poor man's meal. But now Ratatouille is a main course that brings extra taste to our tables. It's really popular and well loved. We told each other to try this one meal. Then after the meal, we can always watch Ratatouille the animation with our after dinner tea.
Ingredients
2 aubergines
2 zucchinis
2 potatoes
Half a small glass of oil
For its sauce;
4 tomatoes
4 peppers
1 onion
A couple of garlic cloves
1 quarter glass of oil
Salt
Pepper
Thyme
Preparation
After peeling aubergines, zucchinis and potatoes, slice them (you can wait aubergines in water for a while). Linet hem on a glass tray and add olive onto them. Meanwhile, prepare its sauce. For its sauce, slice all the ingredients thin then blight them on a pan (First blight peppers, onion and garlics for two minutes. Then add tomatoes and spices and blight them for another four minutes). Pour the sauce on the vegetables in the glass tray. You can bake them for 40 minutes in 200° oven. Make sure that all vegetables bake the same. If there are uncooked places, you can add a glass of water and keep on baking. It's important to eat Ratatouille hot. Bon appétit!